L-R: STYLEetc Editor Gemma Latham with Jewellery Designer Fei Liu and Managing Director of Green+Benz, Helen Dimmick.
This week STYLEetc were invited to jewellery boutique Green+Benz, to meet designer Fei Liu and learn about his unique jewellery designs which combine influences of Eastern heritage with western techniques. With a place on this year's Professional Jeweller Hot 100, we were eager to find out more about the man behind this brand to watch!
Fei spent the evening chatting about his designs and picking out pieces for us to try, eager for everyone to feel and experience his creations, which range from everyday wearable to boldly-adorned show-stoppers. I couldn't refuse Fei's offer to try on his 'priceless' Kingfisher Earrings, a special commission by the Platinum Guild featuring a pair of antique Chinese hair-pins, intricately set with the bright blue feathers of a Kingfisher.
Showcasing his talent for fusing old with new and east with west, Fei used computer techniques to create an egg-shaped platinum cage structure, set with diamonds and turquoise, on which to present the hair-pins. The result is truly stunning and there were gasps all around that I was being allowed to wear them!
Fei is a charismatic character, at ease interacting with people and enthused by seeing their reactions to his beautiful creations. So it came as no surprise to hear many of his designs are bespoke commissions. I managed to steel Fei away for a few moments to find out a little more about his inspirations and approach to design:
You have been commissioned to create many bespoke pieces for individuals, how do you begin this process? 
A lot of designers feel it is important for bespoke creations to carry their style, but I understand it differently. As designers we need to use our creativity and passion to serve the person we are working for. This is why when it comes to bespoke I always want to capture more essence of that person and less of me.
Where does the inspiration behind your own collections come from?
As a designer my inspiration comes from everyday life. Inspiration exists every minute, everywhere and every corner. If you pay enough attention to your life you can capture inspiration. I carry around a sketchbook and I take pictures on my phone capturing whatever I see.
What are your favourite materials to work with?
My favourite material to work with is platinum because of the quality of the metal. It has the greatest strength and chemically is extremely stable. It can look very fragile but is actually very strong. It can be worn every day and will always retain its beautiful white colour. I also love to work with gold because you can plate different colours onto gold, which can collaborate well with different gemstones. The reason I love to use colour in my designs is because I believe it is important to collaborate with the wearer's personality and physical features. Gold gives the opportunity to create jewellery that is perfectly matched to a personality.
Talking about personalities, who would be your ideal brand ambassador?
I believe that jewellery should go with a person. I don't believe in using somebody to cage a brand look. Designers should be able to create different essences through jewellery. These essences can be portrayed by different celebrities or stars, but if there is one ambassador for a brand, you may isolate somebody who loves the jewellery but does not feel an affinity to that person. I strongly believe my creations should serve people, rather than being served by people.
And finally, do you have any advice for aspiring jewellery designers?
Look at us, if we can achieve then so can you! I would advise the newcomer to be adventurous and not model themselves on somebody who is already out there. I think established designers should be inspirational rather than be seen as a model. Seek inspiration in our approach and mentality, rather than our actual designs. I would like the newcomer to be themselves, continue to explore who they are and use their own language to express themselves.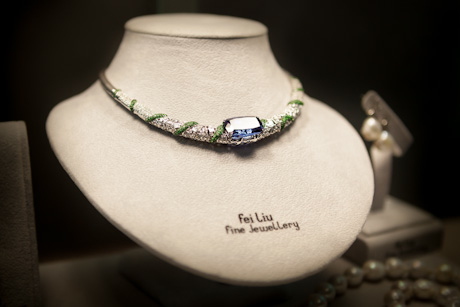 Fei Liu Fine Jewellery is available from contemporary jewellery boutique Green+Benz, situated in the Corn Exchange, Exchange Square, Manchester. A selection of Fei Liu's bespoke creations, including the Kingfisher Earrings, will be on display at Green + Benz until Wednesday 28th November.
By Gemma Latham (@carnabytwenty1)
Photography courtesy of Sven Eselgroth