STYLE etc. introduces gifts to make every mum feel special on Mother's Day and onwards.
1. BoBelle London has launched a Smartphone and IPad2 accessories line, bringing true English luxury back to accessories. BoBelle's leather glitter case would be a great touch of chic for every Mother. Everyone deserves a bit of sparkle in life.
Smartphone cases – £35, IPad2 cases – £65; www.BoBelleLondon.com
2. For those Barbour fans out there, STYLE etc. introduces you to a new range of jackets you will absolutely fall in love with, Lavenham. It is not only more affordable, but also very fashionable and on-trend with colours, shapes and fabrics. Doesn't every mum dream of a stylish quilted jacket?
£130, Purple quilted Lavenham Jacket
3. If your mum prefers lighter jackets and she is not afraid of cool and fresh prints, Supremebeing blazer would be a perfect choice for her. This blazer would look fabulous with dark blue jeans and a pair of loafers. She will never stop wearing it!
£70, Supremebeing jacket
4. If you didn't know when to buy Yves Saint Laurent items, now would be the time. Since recently changing it's fashion house name to Saint Laurent, all things YSL are now vintage, which means that in many years these items will cost twice their original price. If this reason isn't enough to surprise your mum with a beautiful arty gold-plated YSL ring, take a look at every fashionista in the world who's got one or two, or even three of those iconic rings. How are they anymore special than your mum?
£180, www.selfridges.com
5. What can be better than a hand-made gold cuff from renowned Derbyshire jewels, Rodgers & Rodgers? No matter whether it is a casual lunch with her girlfriends or a romantic dinner with your dad, it is so elegant and flawless, so she would wear it day and night.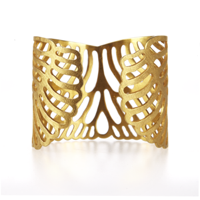 £265, Rodgers & Rodgers Gold Cuff
6. Every mum wants to feel younger than her age. Crème de la Mer would be a perfect gift to make her skin feel fresh and rejuvenated. But being such an expensive pleasure, not every mum can afford it. So why don't you treat her to this miracle cream?
£100, www.selfridges.com
7. If you want your mum to feel and smell special, Jo Malone's Lime Basil & Mandarin Cologne would be just right for her. It is a modern British classic fragrance with a touch of peppery basil and aromatic white thyme, which brings an unexpected twist to the scent of limes on a Caribbean breeze. It is a scent of luxury and sophistication.
£76, www.selfridges.com
By Yulia Vorobieva, @fashionkeeper