Will Beckett and Huw Gott's first restaurant outside of London, Hawksmoor Manchester, opens today, 5th March. The sixth Hawksmoor is a 130-cover restaurant and 44-cover bar with an Edwardian interior and a menu revolving around steaks from ethically reared native breed cattle along with sustainable seafood from around the British coast.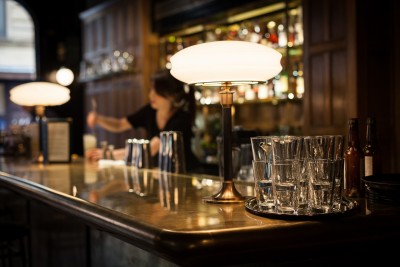 This is what Will and Huw do best, although it's taken the pair a good few years to find their ideal site in Manchester.
"It feels great, after years of trying to open a restaurant in Manchester and months of building works, tastings and anticipation to finally open our doors and welcome people in. The Courthouse was the ideal location for us and we really hope Manchester likes what we've created here – really high standards of food, drink and service, but somewhere where you can have a good time as well as a good meal – none of the stuffiness that you sometimes find with 'fine dining,'" says Will.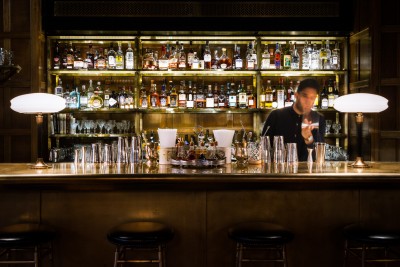 The interior takes its cue from the landmark Grade II listed Courthouse building the restaurant is located in. Reclaimed materials – including parquet flooring from a courthouse in the midlands, glazed bricks from a Nottingham factory (along with a few from a public lavatory in Liverpool), oak panelling from Birmingham's Sandwell College and copperlight doors from a 1910 University of the Arts building – are used extensively to create a comfortable lived-in feel, with a touch of glamour coming from a long bar clad in brass and a run of antique Holophane pendant lights shipped over from New Jersey.
The menu, alongside Hawksmoor's signature dictionary-thick steaks, features a number of new dishes created especially for the Manchester restaurant. New dishes include Shortrib Macaroni, Veal Rump with Fried Oysters, Cottage Pie Potato Skins and Maple Bacon. Joining old favourites on the bar menu, like the Kimchi Burger, Shortrib French Dip and Lobster Roll, is a Poutine Barm, a Montreal-meets- Manchester sandwich with triple cooked chips, chicken gravy and cheddar cheese curds stuffed in a traditional barm, with extra gravy for dipping.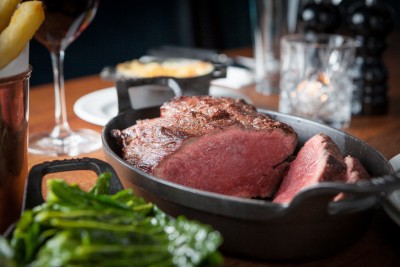 Pastry Chef Carla Henriques has created new desserts including a Black Forest Pavlova, Sticky Orange Pudding, Custard Tart with Yorkshire Rhubarb and Honeycomb & Hot Chocolate Sundae. But judging by the soft launch it's likely to be her gold leaf strewn 'Ambassador's Reception', a pudding-sized tribute to an old favourite that must remain nameless for legal reasons (think dodgy 80s adverts) that gains the most Instagram snaps.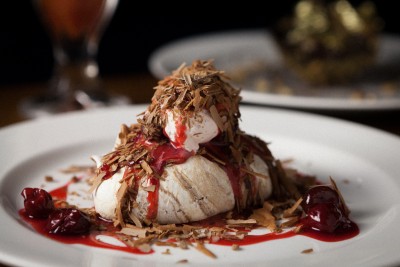 As with all the Hawksmoors, Manchester works with a number of sustainable suppliers, including Tim Wilson of The Ginger Pig in Yorkshire, whose grass-fed beef is widely acknowledged to be the best in the country and Mitch Tonks, a frequent Hawksmoor collaborator, restaurateur and 'seafood champion', who has helped perfect a number of new seafood dishes.