Spring is finally here, the lighter nights, the pretty flowers, birds chirping and copper and plum tones. Here we have listed our top 6 palettes for this season.

This palette contains 35 colours varying from luscious lilacs, deep plums and classic neutral brown tones. Morphe are an increasingly popular brand in the make-up world, the brand name is a buzzword amongst top beauty bloggers.  As stated there's 35 shades of highly pigmented, long wearing colour to choose from and mix to create many different looks. The packaging is a solid black plastic container with 35 eyeshadow pans. The Morphe palette is available to buy from Beauty Bay and retails at £22.

Named after the goddesses in her life, Ashley Tisdale has created this beautiful spring time palette. With 12 shades made up of shimmers and mattes, there is a range of neutral browns and coppers, shimmery greys and blacks and buttery violets. The bigger eyeshadows can also double up as highlight shades. The packaging is traditional to the brand, solid cardboard with a little mirror in the lid and pale pink and white stripes. The names of the shadows are also now printed on the box instead of on the plastic covering inside which is a nice little touch. The palette, having only just launched, is currently only available from the BH Cosmetics website. They ship to the UK with only a small delivery fee.

Tarte say that this palette is inspired by unicorns and its not really difficult to see why. This magical glittering palette boasts an array of shades from teal to copper and purple to gold. There are 10 eyeshadow shades in total and one eye and cheek highlighter to bring your look together perfectly. The shades come compact in a solid gold circular palette which contains a mirror in the lid and the names of the shades are printed inside. When closed it has a kaleidoscope print on the top. In classic Tarte style along with many of their other palettes, this one is limited edition so hurry and purchase yours before it sells out!

Maybelline created this palette with catwalk runways in mind. There are 12 shades each varying from neutral tones to colourful golds, coppers and purples and are all flecked with gold shimmer. The palette was formulated so that the shades could be used solo, as a duo, trio or quad to create your own signature look. The packaging is rose gold, sturdy and contains suggested colour combinations on the back. Like other Maybelline palettes, there is also a double ended brush included with a sponge applicator on one end and a fluffy brush on the other.

Ablaze is one of seven new palettes launched by Smashbox, each palette has a mixture of six eyeshadows and two double-sized base shades that the brand say will "deliver beyond blendable colour in velvety, fierce foil finishes you'll obsess over."Ablaze boasts warm burgundies and copper toned shadows which are very popular this Spring/Summer. The face of this collection is Pretty Little Liars star Shay Mitchell with whom they worked with to create each individual palette. These palettes and the whole Smashbox range is also available at Boots online and in store retailing at the same price of £24.
Makeup Revolution have become well known for their amazing quality products at super affordable prices. This palette boasts 32 shimmer and matte shades ranging from cool nude tones to darker copper and burgundy tones. They come in a solid plastic compact with a large, full mirror in the lid and it all comes packaged in a lovely rose gold cardboard box.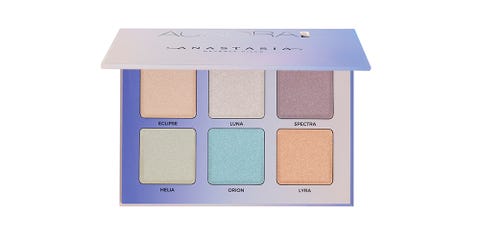 This isn't technically an eyeshadow palette but it is being included as a bonus palette purely as it is due for launch in the next few days! The latest glow kit from ABH is too pretty not to mention, it contains six new highlight shades ranging from peaches to blues. The unusual and unique shades are a little brighter than its sister palette, Moon Child and are highly pigmented. These shades are not so much for that 'natural glow', think more otherworldly and astrological! Anastasia Beverly Hills do have a UK website and Beauty Bay and Cult Beauty are official UK stockists of the brand and it is assumed due to other launches that they will be stocking the Aurora Glow Kit in the coming months. You will be able to purchase the palette from Anastasia Beverly Hills US site but shipping fees will apply.
Read more Beauty at STYLEetc.